Laurel School of Music
Main Street Location Closed
MUSIC INSTRUCTION STILL AVAILABLE
Call 301 498 4479 to contact Area Instructors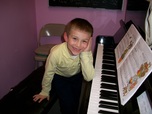 After over 25 years of service to the Laurel area and the region, the
Laurel School of Music
closed its doors at the Main Street, Laurel location in October of 2011.
Laurel School of Music Instructors who formerly instructed at the Main Street Laurel studio have continued instruction in the Laurel Area.INSTRUCTION AVAILABLEPiano -
all ages and skill levels
Band Instruments -
Trumpet, Clarinet, Saxophone, Percussion and Drum Set
Orchestral Instruments -
Violin, Viola, Cello
Guitar
- Electric, Bass, Acoustic - all styles
Vocal Training-
Vocal Skills, Audition Prep
Drums -
Drum Set Instruction on Real Drum Set, All Styles

Phone: 301 498-4479
E-mail: aroda@laurelschoolofmusic.com Instructors
have instructed hundreds of musicians and students from the 5 area counties, Prince Georege's, Montgomery, Howard, Anne Arundel, and Baltimore County for over 25 years. Having instructors teaching throughout the day with flexible lesson schedules, we offer a robust variety of lessons for
Home Schooled
student musicians.
To the hundreds of musicians and parents that patronized the
Laurel School of Music
over the past 2 and a half decades, we heartily thank you!!!
---